Wainwright's Coast to Coast Walk
Day 0 - Arrival in St. Bees
Ah, to walk along the fell tops with the sun shining and the wind in my hair, and not a worry in sight except which local ale to sample when I reach my destination... ahem... back to reality. There I was, sitting at my desk, alone in the silence of the Informatics Forum at 4 O'Clock in the morning. True, I was about to set off on the greatest walking adventure I had ever attempted... but that was in just a few hours time, and I still had my accursed dissertation to finish writing! Oh well, back to the grind...
A few hours later, and I had somehow managed to finish a draft of sorts, albeit slightly incomplete in places... ha ha ha... that has to be the understatement of the century! And so, laughing manically in that sleep-deprived way where nothing makes sense any more, I printed off the document, and rushed home to quickly shower and pack and catch my train to St. Bees. At least I was determined to enjoy the next two weeks away from a computer screen, and to hopefully get some fresh inspiration in the Great Outdoors of Northern England!
If you've managed to get this far, you're probably thinking to yourself, "this guy is off his rockers", or something similarly quizzical. Only a crazy person would set off on a 200 mile walk, and to set off without any sleep - that's just insane! Well, luckily for me I didn't have to start walking until the next day, which was something of a relief as I dazedly stared out of the train window on that Saturday afternoon. After changing to a smaller local train in Carlisle, and enjoying the journey down the Cumbrian coastline, I arrived in the little town of St. Bees at 3.40pm.
Since my sense of direction is quite appalling (and I hadn't yet brought out my compass), I was somewhat pleased with myself to find my accommodation for the night on my first attempt - the Fairladies Barn.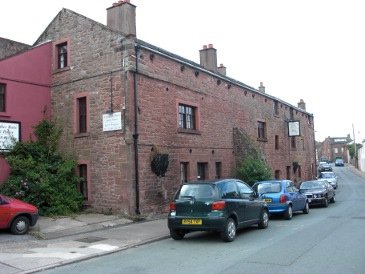 True to the name, I was greeted by a fair lady, who kindly offered to make me an egg sandwich. Ah, the luxuries of having a packed lunch prepared for you - I could get used to this lifestyle! I was shown to my room, which was very comfortable - so comfortable in fact, that I decided it was only polite to make better acquaintances with the bed... and so I fell asleep.
When I woke up again, it was about 7pm, so I thought it best to get a quick shower, then head out for something to eat. I quickly found the aptly-named Coast to Coast Bar, which was bursting to the rafters, so to speak, and so I asked two gentlemen if they would mind me joining them at the spare seat on their table. Not knowing what they were letting themselves in for, they agreed. It turned out that Carl and Tony were also doing the Coast to Coast, but taking a few days longer and camping along the way (making me feel like a wuss for not carrying my own stuff!). We ended up chatting about all manner of stuff, including my thesis (I told you they didn't know what they were letting themselves in for!), which I hope didn't bore them too much. Carl was thinking about taking a career break to go and teach English abroad for a bit - best of luck with that!
Anyway, I enjoyed a nice sea bass, and a "random" pint of ale, and I would definitely recommend the place. It wasn't until 10pm that I left, more than ready for a proper night's sleep. Breakfast was at 8.15am the next day, so I had to be up and ready. And so, trembling with excitement (or possibly exhaustion), I turned out the lights and dreamt of the first stage of walking - 14 miles to Ennerdale Bridge!